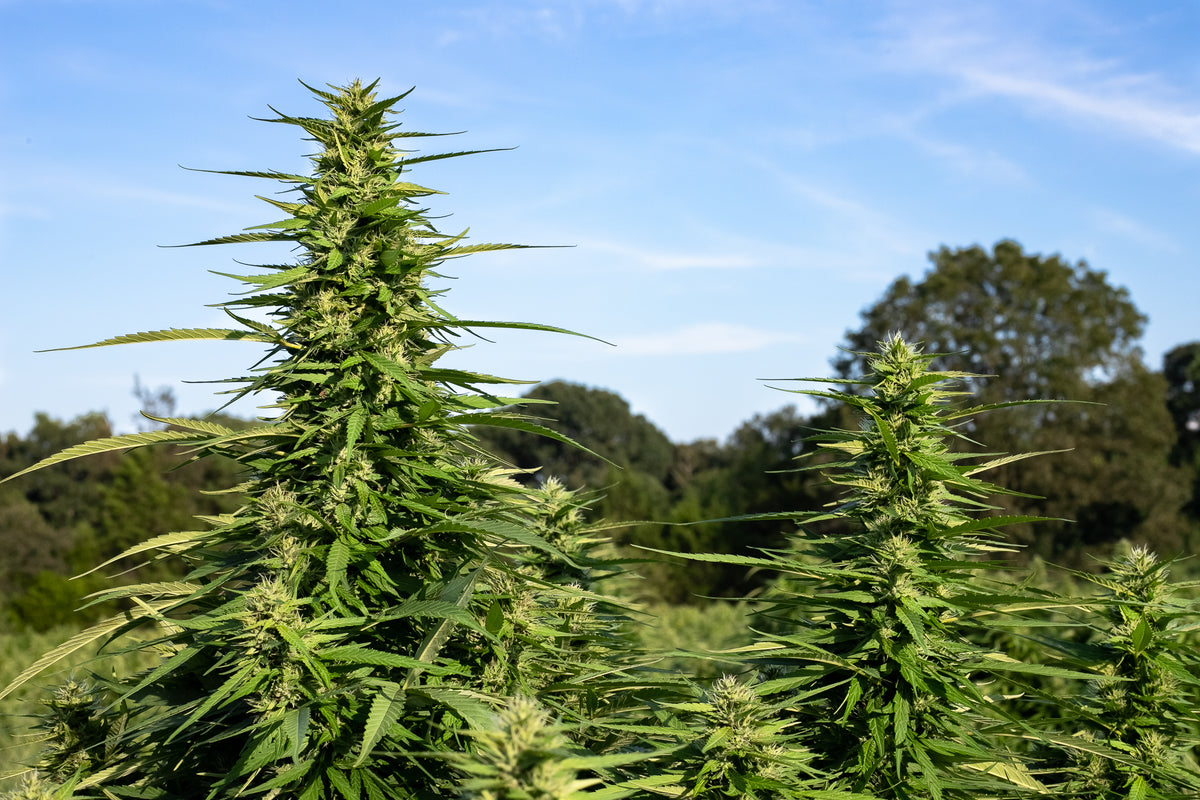 Check out our newest article from
HempGrower
!
Hemp Companies Collab to Rise Above the Seeds vs. Clones Debate
While The Hemp Mine's annual field day usually puts the company's latest genetic offerings on display, this year's field day will have a twist. 
The Hemp Mine, a vertically integrated hemp CBD business in South Carolina, and Davis Hemp Farms, a seed breeding and producing company based in Oregon, are partnering to create a pheno-hunting process during The Hemp Mine's field day to help growers pick the best genetics based on appearance, growth structure, hardiness, terpene profile, trichomes and peak maturity, according to SiraNaturals.
"We distribute genetics nationally, but only vegetative material [like clones], which is opposite of Jeremy [CEO of Davis Hemp Farms] and one reason why we're coming together," says Allison Justice Ph.D., CEO of The Hemp Mine.
Overall, the partnership is an attempt to foster an environment of collaboration in the industry. Also, after the pheno-hunting process, The Hemp Mine will clone the seed varieties from Klettke that perform the best and then sell the clones to growers, says Jeremy Klettke, CEO and founder of Davis Hemp Farms. 
From Seeds to Clones
Justice says The Hemp Mine and Davis Hemp Farms have known each other for years, but it wasn't until recently that they decided to hop on a phone call and begin working with each other.
"Where we are historically is that cannabis has really been selected and developed based on taking a set of seeds and then finding the plant that has the expressions that you want and then mothering that plant out, which is very much what Allison has been focused on," Klettke says. "It's given her the ability to create and to offer some industry-leading genetics."
Klettke says his company is "dealing with F1 seeds," which are the first generation hybrid seeds created after crossing two genetically distinct plants.
"So, we are putting a seed out in the field and trying to offer farmers a limited amount of variability in that seed line, but what we see are unique expressions every now and again—the same sort of subset of expressions that you would see if you went through a ten pack of seeds to select clones," he says, explaining the traditional method many breeders go through to select the "mother" plant to clone.
Klettke says one of the main reasons they are using seeds is because of their variability.
"This collaboration is to try and capitalize on that variability by finding the plants with the most desirable expressions. And we do not anticipate any further reduction in the variability expressed through our F1 lines," Klettke says. "After the selections are made, we want to provide these plants to farmers in a clone form through The Hemp Mine. Parallel to this, we will be taking the selections back into our breeding program and working to introduce those expressions into our seed lines."
The goal is to identify plants that have a 35:1 cannabidiol (CBD) to tetrahydrocannabinol (THC) ratio, along with water resistance and field hardiness, desirable terpene or flavonoid profiles, and natural pest resistance, he says.
"Inevitably, when you create a seed line, there's going to be some variability. So, when you take that and spread that over a population of thousands, you see short plants, tall plants, and plants that test one way and another way," he says. "What Allison has done is come in with The Hemp Mine and take that variability out of the game by offering clonal varieties that are safe and proven in those environments, and on the seed side, we have attempted to do the same thing.
"I think we saw the variability and have attempted to narrow that down as much as possible to give farmers something where when they look across the field, they have a uniform stand or relatively true to type [plants]," Klettke adds. 
However, as Klettke mentioned, variability still exists in Davis Hemp Farms' seed line, as is typical with seeds. But through working with Justice and The Hemp Mine, he believes they'll discover adequate clone varieties for farmers.
"There are some great benefits to the clones, and there are some great benefits of the seeds," he says. "And I think in an industry that's nascent like this, we really need the clones [in] the industry, or the farmers would have fallen on their face. That being said, you know I'm a seed provider and believe in seeds. So, what we've tried to do is limit that variability, and that is the reason why we're doing this is because of the variability in the seed line."
Davis Hemp Farms typically focuses on a 30:1 CBD to THC ratio, he says. And through recent university testing with Cornell, Purdue, Virginia Tech and more, Davis Hemp Farms has started to see a lot of single plant certificates of analysis (COA) come back with a 35:1 or 37:1 ratio, which he describes as "beautiful expressions that exist as anomalies in the plant line."
"My thought was this was a great opportunity to take a nascent industry that has really not been about cooperation between companies, simply because there's been so much revenue potential," he says. "And what I saw was an opportunity .... It benefits Davis Hemp Farms because we're going to find the best expressions of our plants, and it benefits farmers because it's going to help them to gain a better plant that's 36 or 38 to 1 that can produce more CBD while remaining THC-compliant."
The Field Day
Justice says they will kick off the pheno-hunting process in the next couple of weeks when they begin the process of germinating the seeds in a greenhouse. Roughly three to four weeks after that, the seeds will be transplanted into the field and will be evaluated up until harvest in September, she says.
The genetics and findings from the pheno-hunting process will be paired with The Hemp Mine's field day, which will occur sometime in September.
Field Day is an event where farmers, vendors and educators come together for a small fee and have the opportunity to walk through the fields, learn about the plants, and smell, touch and feel the plants in person before purchasing their genetics, Justice says.
Justice says Field Day starts with two hours of educational sessions, which consist of her updating attendees on things The Hemp Mine has been working on.
"We also do contract research," she says. "I just got off the phone with [a fertilizer company], and we're going to look at incorporating their slow-release granular fertilizer into their boost versus the liquid nutrients fertilizer. So for that project, we will have signs explaining the trials and what's happening. So, I would be talking about that as well."
During the educational sessions, university professors also talk about what they've been working on involving hemp, and vendors give a short speech about why their products are essential, how they're relevant to the hemp industry and how they can be useful, she says.
"From there, we take a walk through the fields, and I lead it," she says. "And so I'll touch on some of the important aspects of new varieties, why it's important, etc. And then I'll walk them through research plots to see the differences."
The groups get ten to 15 minutes to walk through each section to get a good feel of what the plants would look like versus only seeing pictures, she says.
Essentially, Field Day is an opportunity for farmers to discover genetics to purchase and see what The Hemp Mine and Davis Farms have been working on.
"For the genetics, we won't necessarily have a winner ready that day because the selections will be based on data that is collected from germination to the final COA," Justice says. "So, we will not necessarily have the winner announced at that point, but we could end up doing something cool, where the people that come can vote on their favorite or something like that.
"A 'winner' encompasses all metrics used to consider a quality hemp variety. This includes potency, disease [and] insect resistance, visual appeal (especially for smokable flower), flower initiation time, terpenes, etc. Only our winning selections will be available to the public for next growing season," Justice adds in an email. 
Additionally, Kaycha Labs and Result Group, a full-service cannabis and hemp testing lab in Colorado, will be sponsoring the Field Day as far as the analytical testing side and will test the selections for both cannabinoid content and terpenes, Klettke says.
Klettke says he thinks this partnership will help the industry at large because it creates an example of two relatively prominent national and somewhat international companies coming together to say, "look, we don't all have to battle each other out to help move the industry forward."
Following the pheno-hunting process, both Justice and Klettke are unsure of what will come next, but they hope to stay connected.
"We would like to say it would be a continued collaboration, whether Jeremy has new seed lines to pheno hunt, or if it's just remaining as a business relationship from this year, I think we both would say we'd love to continue the process," Justice says