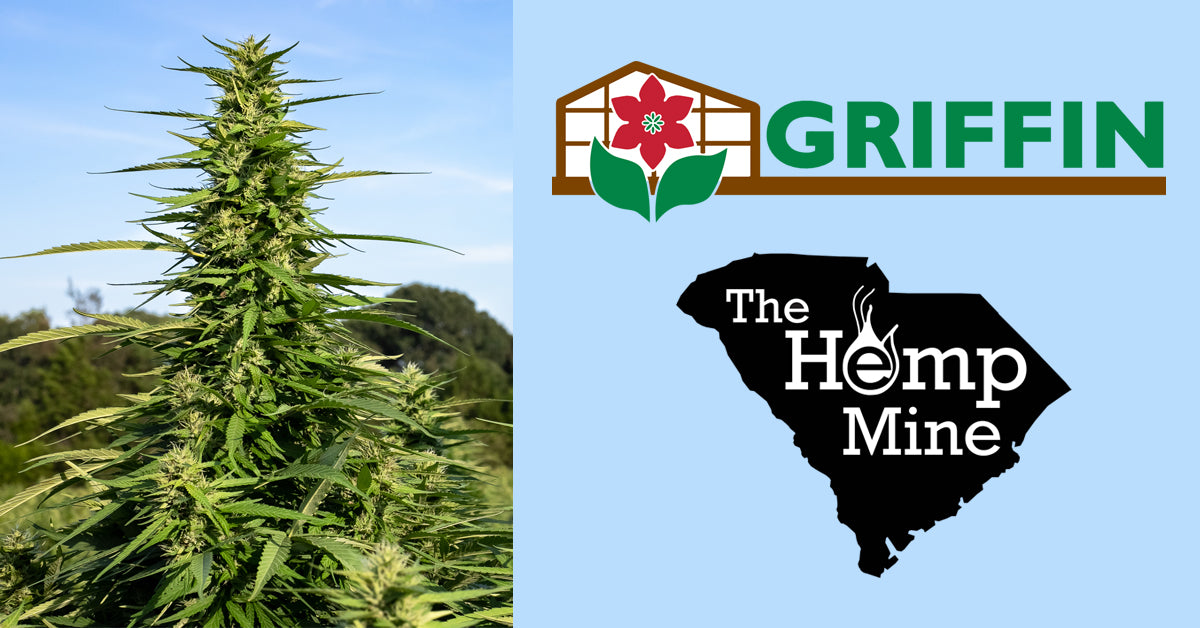 Griffin Strengthens Genetic Offering by Partnering with The Hemp Mine  
Partnership with The Hemp Mine Brings our Customers Industry-Leading Genetic Inputs that are Important to their Success  
Tewksbury, Mass., November 4, 2020 – Griffin, one of the largest horticultural brokers and suppliers in the United States, announced today that it has entered into a Genetic Distribution Agreement with The Hemp Mine. Hemp Mine is based out of South Carolina and is a leading genetics provider across the United States.
Griffin works with the strongest breeders in the ornamental world, and we are bringing the same approach to the hemp arena.  This partnership strengthens both our genetic offer, and the technical know-how behind the genetics.
"The Hemp Mine understands our expectations for breeding and genetics partners, their genetics are market-focused and proven by trials, and they bring extensive crop knowledge. We believe our partnership with The Hemp Mine brings our customers industry-leading genetic inputs that are important to their success in this young, often dynamic, and sometimes challenging market." said Tami Van Gaal, CEA Division Leader for Griffin.  "We also secure a strong supply chain because The Hemp Mine is partnered with rooting stations that fully understand the young plant market. The rooting stations are true professionals that our customers will know and recognize."
The partnership allows Griffin to tap into The Hemp Mine's genetics and gives both companies an expanded geographical footprint.
"The Hemp Mine offers a data driven, regionally validated and proven genetic portfolio. We are excited to partner with Griffin to share these genetics with our mutual customers. Our diverse offerings allow customers to choose hemp with characteristics that fit their program needs. The passion Griffin has for offering superior technical support alongside their live goods gives us confidence that we have chosen the right partner. Together, knowing honesty and transparency on genetic performance should be a given, we will ensure customer success in any region in the US." --Travis Higginbotham Owner, Sales & Business Development.
About Griffin
Griffin Greenhouse Supplies, Inc., headquartered in Tewksbury, Mass., has served the needs of growers in greenhouse and nursery production, and independent garden centers for more than 70 years. Griffin operates 16 fully stocked service centers, serving growers and retailers nationwide. The business also distributes live goods including seed, cuttings and young plants. Griffin is among the premier distributors in the U.S., with an outstanding reputation for operational excellence, high-quality products and superior customer service. For more information, please visit www.griffins.com.
About The Hemp Mine, LLC
The Hemp Mine is a vertically integrated family owned and operated hemp company headquartered in South Carolina. The Hemp Mine manages 60 acres of field production, a critical CO2 extraction and THC remediation facility, and a head office combined with a 10,000 ft2 manufacturing facility. Not only does The Hemp Mine plant, cultivate, harvest, dry, extract and manufacture hemp products with sales in over 2,000 retail stores and online but they also have nationwide genetic distribution. The Hemp Mine breeds and regionally trials indoor and outdoor at scale to offer validated hemp genetics to the hemp market. The genetics offered are clones in the form of stage III tissue culture, unrooted cuttings, and rooted cuttings (liners). These are made available to the hemp market through greenhouse production partners across the country. The Hemp Mine comes with decades of commercial horticultural expertise and prides themselves on delivering a science based and data driven perspective to the hemp industry. This industry is composed of multiple different micro-markets throughout the supply chain which are all in dire need of product quality validation, streamlined SOPs (standard operating procedures) and a clear and accurate understanding throughout. The Hemp Mine is constantly challenging the industry status quo from a breeder, farmer, and consumer perspective.