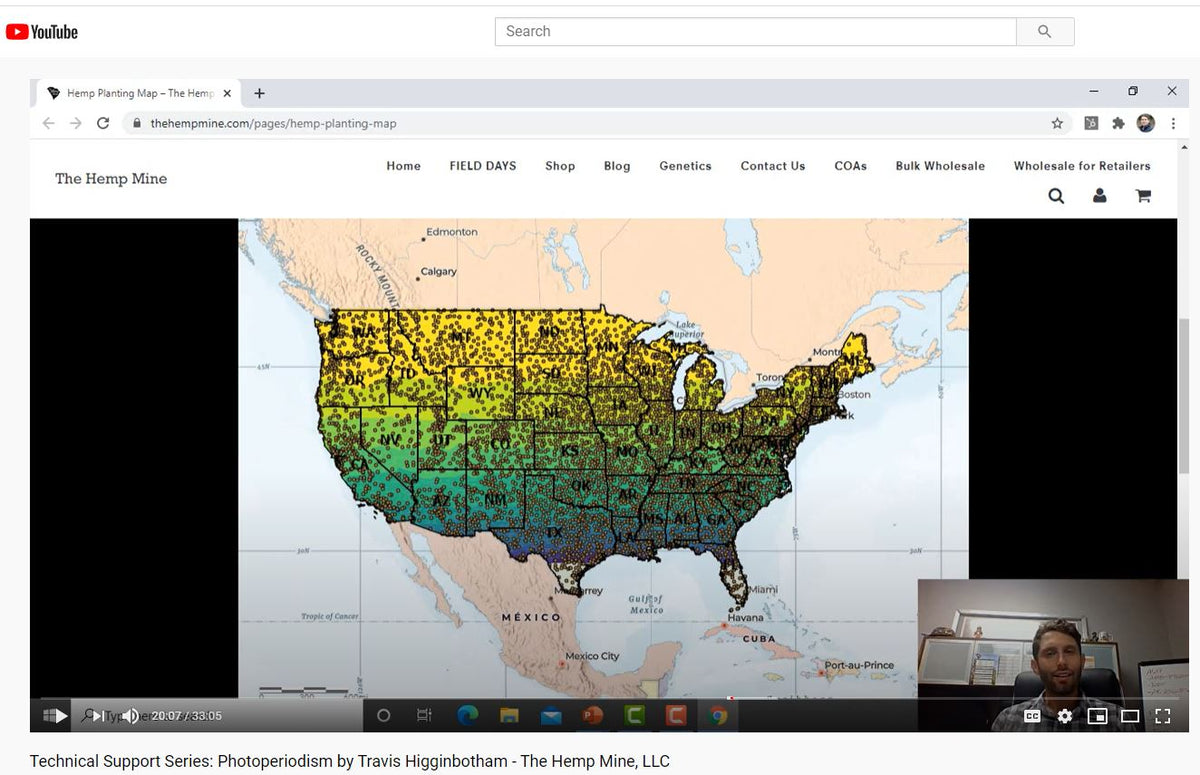 The Hemp Mine is launching a new open Technical Support Series for the hemp industry. This series and other informative videos can be found on The Hemp Mine YouTube channel, http://bit.ly/TheHempMineYouTube The initial video in the series focuses on Photoperiodism and how it affects cannabis growth, flowering, and harvest.
Travis Higginbotham of The Hemp Mine presents the first topic of Photoperiodism. This in-depth video explains the concept of Photoperiodism as it relates to indoor and outdoor cannabis production. Photoperiodism is broken down into its different classes and typical indoor and field grown cannabis schedules are discussed. Lessons from mature horticultural markets such as floriculture can be effectively implemented to increase production and yield in the cannabis market.
The Hemp Mine's Hemp Planting Map is also revealed, and Travis explains its online interactive use. The Hemp Planting Map is an incredible tool for growers throughout the US to pinpoint hyperlocal data about frost dates and day length. The map was created in conjunction with Professor Joanne Logan of the Herbert College of Agriculture, University of Tennessee Knoxville. The Hemp Planting Map can be found on The Hemp Mine's website under HPM tab, https://thehempmine.com/pages/hemp-planting-map.
"We want to offer as much technical support to our farmers as possible, knowing the risk we are all taking getting into hemp in the first place. With such an unpredictable market, let us at least help ensure your production is predictable and goes as planned. This is our job as plant breeders." –Travis Higginbotham
Part two of Photoperiodism in cannabis will be presented by Dr. Allison Justice in an upcoming video of the Technical Support Series.
About The Hemp Mine, LLC
The Hemp Mine is a vertically integrated family owned and operated hemp company headquartered in South Carolina. The Hemp Mine manages 60 acres of field production, a critical CO2 extraction and THC remediation facility, and a head office combined with a 10,000 ft2 manufacturing facility. Not only does The Hemp Mine plant, cultivate, harvest, dry, extract and manufacture hemp products with sales in over 2,000 retail stores and online but they also have nationwide genetic distribution. The Hemp Mine breeds and regionally trials indoor and outdoor at scale to offer validated hemp genetics to the hemp market. The genetics offered are clones in the form of stage III tissue culture, unrooted cuttings, and rooted cuttings (liners). These are made available to the hemp market through greenhouse production partners across the country. The Hemp Mine comes with decades of commercial horticultural expertise and prides themselves on delivering a science based and data driven perspective to the hemp industry. This industry is composed of multiple different micro-markets throughout the supply chain which are all in dire need of product quality validation, streamlined SOPs (standard operating procedures) and a clear and accurate understanding throughout. The Hemp Mine is constantly challenging the industry status quo from a breeder, farmer, and consumer perspective.