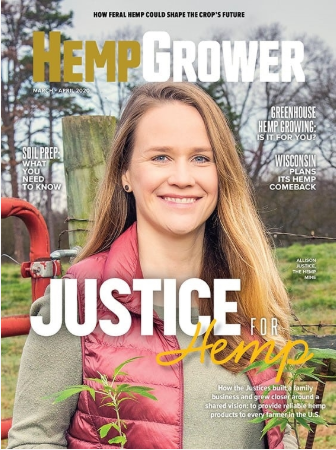 Family businesses can be defined by the strength of six dimensions, according to recent research by The Family Business Network and Egon Zehnder, the global management consulting and executive search firm. The No. 1 dimension, according to the research: Shared values.
This study revealed that shared values unite family members and provide a common framework for building relationships both within and outside the business. Shared values also give the business a moral center to help differentiate it in the marketplace and sustain it in the face of adversity.
If you spend any time talking to the members of the Justice family, who own The Hemp Mine LLC in South Carolina, one thing will become eminently clear: They epitomize a business of shared values. In just under two years, the Justice family has built an organization that prioritizes a love of farming and respect for farmers, a duty to the community and a tenacity to innovate.
For Allison Justice, Ph.D., the roots of these values run deep. Her maternal grandparents, Fred and Gladys Isbell, farmed cotton, and her mother, Deborah Justice, grew ornamental plants and raised cattle on the same plot of land. So, after she obtained degrees in horticulture from Clemson University and served as vice president of cultivation for the California cannabis company OutCo, Justice decided to return home to help her family start a hemp business.
Please see full article at https://www.hempgrower.com/article/allison-justice-hemp-mine-sc-botanicals-cbd/