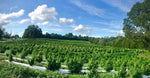 Read an interesting three year study on industrial hemp root zones conducted at the Clemson University Edisto Research and Education Center (EREC) near the town of Blackville, SC, in 2019, 2020, and 2021. Two of The Hemp Mine's cultivars, Luck and Sunset, were used in the study. 
---
The Hemp Mine is pleased to announce their collaboration with Clemson University to create the Cannabis Research Coalition (CRC), a not-for-profit organization that focuses on cannabis horticultural research.  The Cannabis Research Coalition is a professional group dedicated to cannabis research. Dr. Allison Justice & The Hemp Mine LLC, an industry leader in cannabis genetics and production, have partnered with Dr. Jim Faust's Flowering Physiology Laboratory at Clemson University to address the cultivation and postharvest issues that challenge today's cannabis industry.
---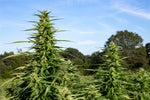 Check out our newest article featured on HempGrower! The Hemp Mine, a hemp clone provider, and Davis Hemp Farms, a hempseed provider, have partnered to create a pheno-hunting process to help growers pick the best genetics. Farmers can see the field trial for themselves in person at The Hemp Mine's Annual Field Day Event in September.