The Hemp Mine is pleased to announce their collaboration with Clemson University to create the Cannabis Research Coalition (CRC), a not-for-profit organization that focuses on cannabis horticultural research.  The Cannabis Research Coalition is a professional group dedicated to cannabis research. Dr. Allison Justice & The Hemp Mine LLC, an industry leader in cannabis genetics and production, have partnered with Dr. Jim Faust's Flowering Physiology Laboratory at Clemson University to address the cultivation and postharvest issues that challenge today's cannabis industry.
---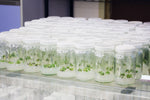 Learn about how to decide whether seed, clone, or tissue culture is right for you with Dr. Allison Justice's guest column in the January 2021 issue of Cannabis Business Times: In the ornamental and produce industries, we refer to genetic starting material as "young plants." This includes seed, clone, and tissue production, all three options are commonly used, all for different reasons. Each type of young plant has its purpose and place for use. For plants with seed lines that contain high heterozygosity (lots of genetic variability) or do not produce seed at all, clonal production is the only way...
---

FAIR PLAY, South Carolina / April 15, 2020 / – The Hemp Mine, LLC, a vertically integrated hemp company that focuses on breeding and producing quality hemp genetics along with consumer hemp products is announcing today its partnership with Adivina Nurseries.